Six new books about Trump depict a president isolated by his bizarre antics and surrounded by staff trying to manage his teenage logic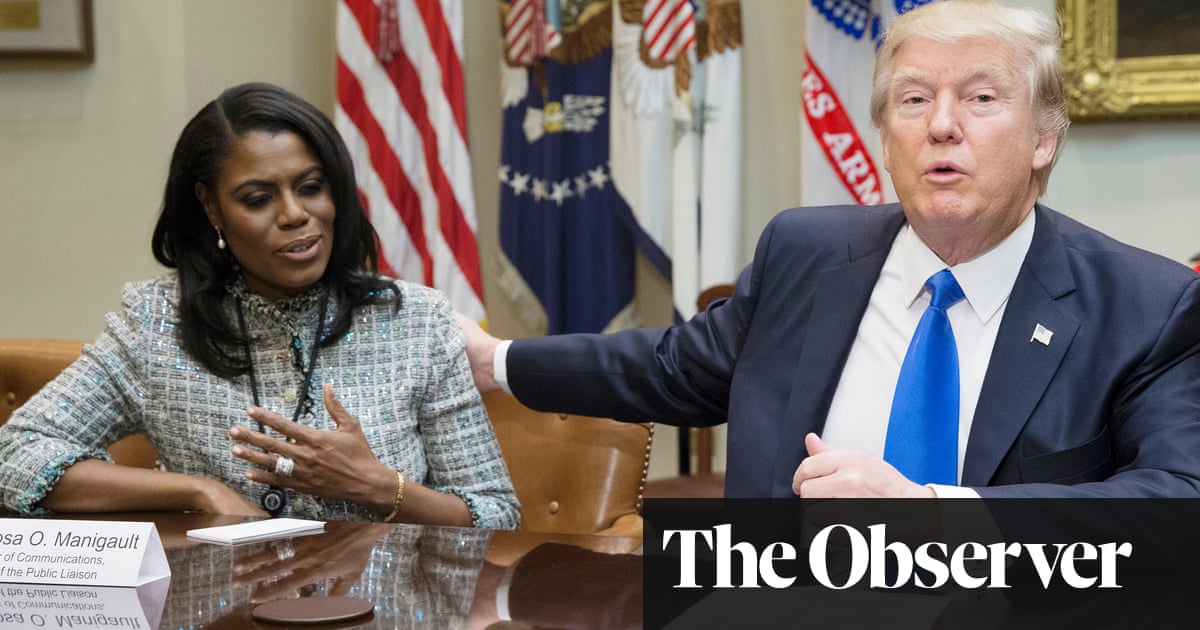 Whos afraid of Donald Trump? All of us, according to the CBS News correspondent Major Garrett, who believes that we await his next tweeted rant with frenzied dread. The squalling baby with the nuclear toy box would be gratified by Garretts phrase, and indeed Bob Woodwards Fear: Trump in the White House (Simon and Schuster 20)takes its title from Trumps claim in an interview that power depends on frightening people.
Yet in Woodwards meticulous account of office intrigues, the presidents men dont seem to be trembling with fright. What they mostly feel is contempt for Trump or pity for his ignorance and the teenage logic of his obsessively vented grievances. Hence their deft administrative coup dtat: by purloining documents from Trumps desk or slow-walking his intemperate orders, his aides have effectively benched him.
That suits their indolent boss, who is free to watch television, eat hot dogs and swill down Diet Coke during what his diary-keepers euphemise as executive time. Periodically, he is wheeled out to sign bills he hasnt read, with jagged penmanship that resembles an overexcited seismograph but looks authoritative in black Magic Marker. Told by his ideologues that hes a populist, he mangles the word and says: I love that. Thats what I am, a popularist.
Woodwards book actually suggests that for Trump, power is not fear but obscenity. The discussions that Woodwards sources have helped him to reconstruct are filthily cloacal or grossly sexual. Debates about policy are conducted in expletives. The nuclear deal with Iran, Trump declares, is shitty. Other problems are categorised as bullshit or horseshit, while arguments are ripshit.
Trump, mocking the Obama administration for its genderless bathrooms, looks out at a world befouled by shithole countries whose inhabitants dont look Norwegian. Unable to use a computer, he blusters against cyber shit.
My guy does not talk in code, Trumps lawyer warns some geeky colleagues. No, he talks in curses and phallic insults. Trump describes Obama as a weak dick, and HR McMaster responds with a rhyme by calling Trump himself a prick. Steve Bannon testifies that I reached out and sucked Reince Priebuss dick metaphorically, I assume. Engagements with adversaries are sweatily homosocial. Man versus man. Me versus Kim, grunts Trump, before boasting with a puffed-up capital letter that he has a bigger nuclear Button than little Rocket Man. We got screwed, he complains about a Chinese trade deal. Banning pre-op transgenderedtroops, he rages: What the fuck? Theyre getting clipped, which Woodward explains as a crude reference to gender reassignment surgery.
Trump tells Muellers investigators to go fuck themselves, and he bombs Syria as a way of saying Fuck you to Assad. To Putin, I suspect, he might submissively murmur Fuck me: he is all-powerful on Twitter, where his threats disappear into empty air, but quakes when confronted by the despots he reveres as true alphamales.
When he screeches Pull the fucking thing out! its a relief to learn that hes referring to an anti-missile system. Despite Woodwardstitle, its Trump who seems afraid of a job that he cant do, of the advisers who outwit him, and of imminent legal consequences.
The antidote to fear is loathing. The two were inextricably linked by the satirist Hunter S Thompson, whose spirit Ben Fountain invokes in his blazingly vituperative account of Trumps rise, Beautiful Country Burn Again (Canongate 12.99). Whereas Woodward makes no attempt to characterise Trump, treating him as a shapeless chaos, always moving in both directions, Fountain skewers the man by fixing on his semi-human physical repulsiveness: he has a head like a Terminator battering-ram, the white-circled eyes of a skulking raccoon, and skin composed of kiln colours brick red, hot pink, burnt orange, a palette keyed to his flame-thrower lick of hair. Trump is later defined as a bog monster, the product of Americas masturbatory fantasies, who has prevailed because fear is the herpes of American politics.
By contrast with this eruption of poetic rage, Sean Spicer in The Briefing (Biteback 20) gives a masochistically feeble account of his few hapless months in the White House press office. He doesnt even blame Trump for pettily excluding him from an audience at the Vatican, when the fervently Catholic Spicer hoped the pope would bless some olive-wood rosary beads for his poor widowed mum. He does embellish the orange ogres myth by likening him to a unicorn a tribute to Trumps fabulosity, or a way of hinting that he is indecently horny?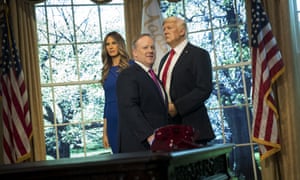 Read more: https://www.theguardian.com/books/2018/sep/16/fear-trump-in-white-house-bob-woodward-briefing-sean-spicer-review