President may delay highly anticipated meeting with deputy attorney general to focus on Thursdays supreme court hearing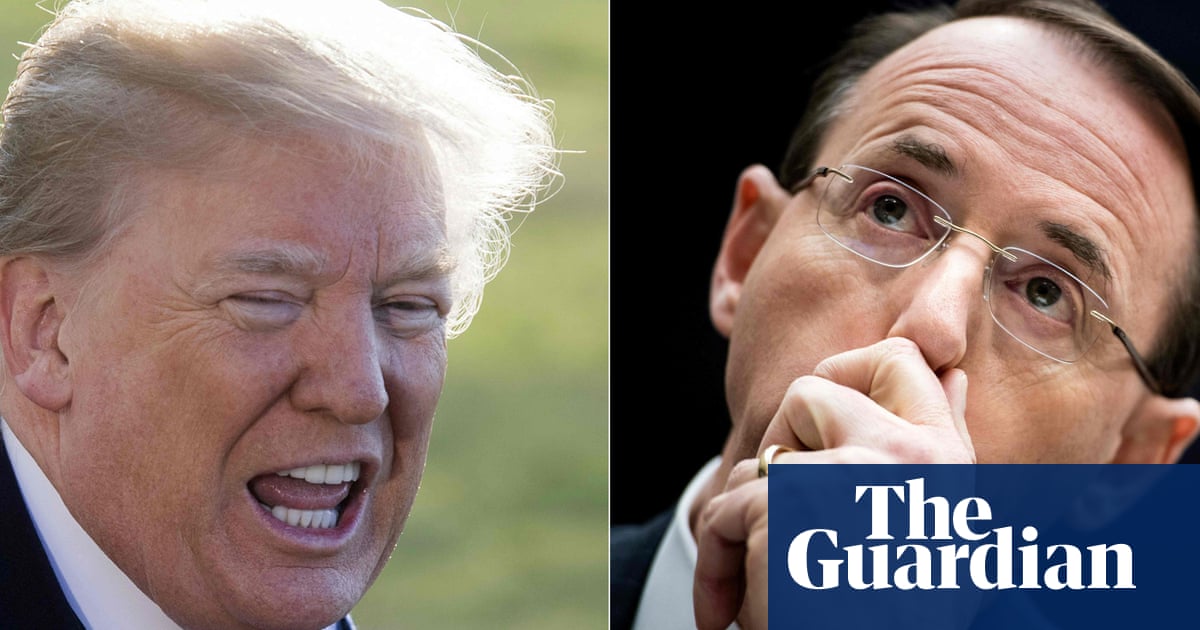 Donald Trump said on Wednesday that he would certainly prefer not to fire the deputy attorney general, Rod Rosenstein, and that he may delay a highly anticipated meeting with the justice departments No 2 official.
Trump said Rosenstein had denied making remarks first attributed to him in a New York Times report, including that he had discussed possibly secretly recording the president and using the constitutions 25th amendment to remove Trump from office.
I would much prefer keeping Rod Rosenstein, Trump said at a news conference in New York. He said he did not say it. He said he does not believe that. He said he has a lot of respect for me, and he was very nice and well see.
Trump added: My preference would be to keep him and to let him finish up.
Rosenstein is overseeing the special counsel Robert Muellers investigation into Russian interference in the 2016 election and his dismissal would put that investigation in jeopardy and create a political storm.
In suggesting that he might postpone Thursdays meeting, Trump said he was focused on the extraordinary Senate judiciary committee hearing, set for the same day, with the supreme court nominee Brett Kavanaugh and a woman who has accused Kavanaugh of sexual assault when they were teenagers.
I may call Rod tonight or tomorrow and ask for a little bit of a delay to the meeting, because I dont want to do anything that gets in the way of this very important supreme court pick, Trump said.
The justice department referred questions about the scheduling of the meeting to the White House.
Any delay in the meeting would prolong the uncertainty of Rosensteins status. Rosenstein headed to the White House on Monday morning preparing to be fired and had discussed a possible resignation over the weekend with White House officials. But after meeting with the chief of staff, John Kelly, and speaking by phone with Trump, he got a reprieve with the Trump meeting scheduled for Thursday.
Since then, the White House has sought to tamp down anxiety that Rosenstein would be fired.
White House officials called senators Monday to say Trump had said he wouldnt be firing Rosenstein at the meeting, according to two people familiar with the conversations who spoke on condition of anonymity to discuss private discussions. Aides have advised Trump against taking any extreme actions ahead of the midterm elections with his partys majorities in Congress already under threat.
Not wanting to fire Rod Rosenstein is consistent with what I have understood for weeks, not just days, said the congressman Mark Meadows, a North Carolina Republican who talks to Trump often.
Friends and former colleagues of Rosenstein say they didnt expect him to step aside and give up oversight of Russia investigation and the enormous swath of justice department operations for which he is responsible.
Rosenstein, who has spent his entire career in government, has tremendous loyalty to the department, said the former justice department lawyer and his longtime friend James Trusty.
Hes a very long-run, historical-minded guy in a lot of ways, Trusty said. I think he may have some confidence that history will be kinder to him than politicians are.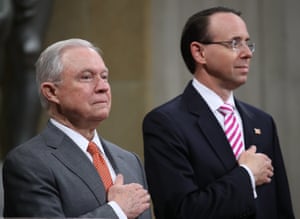 Read more: https://www.theguardian.com/us-news/2018/sep/26/donald-trump-rod-rosenstein-meeting-delay