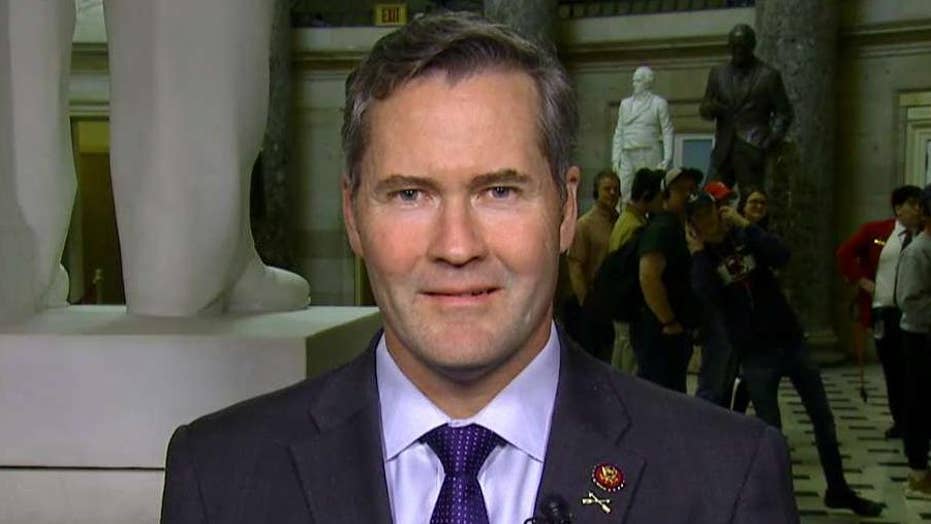 In this picture released by an official website of the office of the Iranian supreme leader, Supreme Leader Ayatollah Ali Khamenei stands as army air force staff salute at the start of their meeting in Tehran, Iran, Friday, Feb. 8, 2019. Khamenei is defending "Death to America" chants that are standard fare at anti-U.S. rallies across Iran but says the chanting is aimed at America's leaders and not its people. (Office of the Iranian Supreme Leader via AP)
Iran's nuclear chief announced last month that the country was taking steps toward the enrichment of uranium fuel.
Trump said in a recent CBS News interview that the U.S. has an "incredible base" in Iraq that is vital "because I want to be able to watch Iran."
That drew an angry response from Iranian President Hassan Rouhani, who said: "You say you stay in Iraq to watch Iran, while before that you were saying you stay there for fighting terrorism. It is so nice that you honestly expressed yourself!"
"You are in Afghanistan for the same purpose," Rouhani added. "You want to watch, whether Iran or Russia and China."
CLICK HERE TO GET THE FOX NEWS APP
Trump has adopted a hard line on Iran, accusing it of sowing chaos across the region through its proxies in Iraq and other countries.
Rouhani said the U.S. would never again dominate Iran in the way it did before the 1979 Iranian Revolution, when the country was ruled by a U.S.-backed monarchy. Iranians are currently marking the 40th anniversary of the uprising, which brought anti-American clerics to power.
"It is impossible for you to take Iran back to 40 years ago. We will never go back to the era of American domination," he said.
The Associated Press contributed to this report.
Read more: https://www.foxnews.com/world/irans-ayatollah-khamenei-celebrates-islamic-revolutions-40th-anniversary-with-cries-of-death-to-trump-bolton-and-pompeo