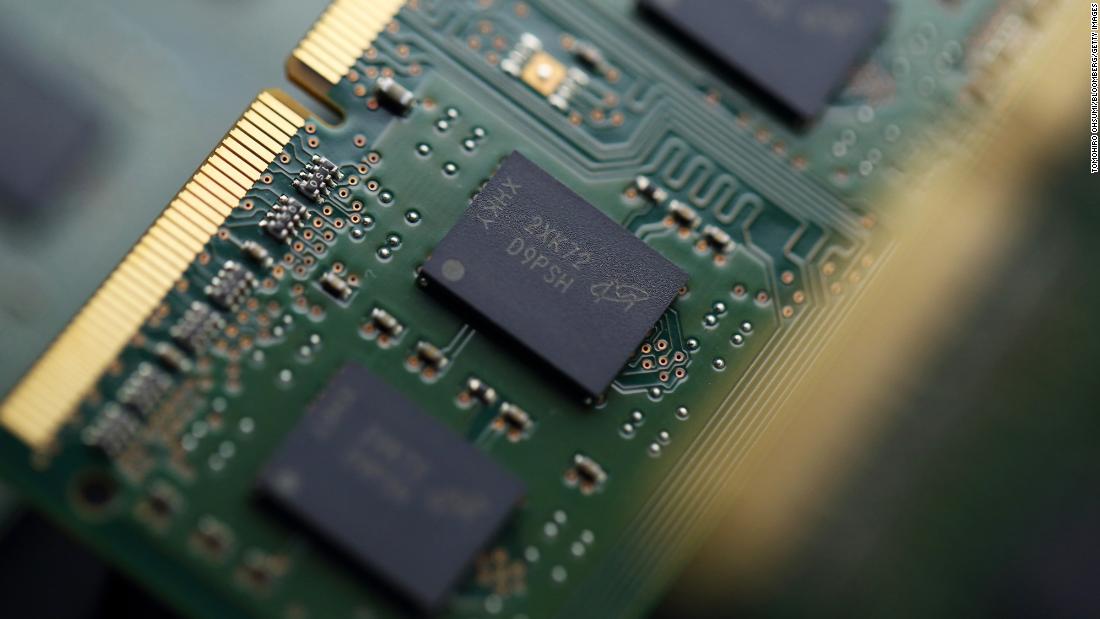 New York (CNN Business)President Donald Trump name-dropped American chipmaker Micron Technology this week, when delivering a speech to the United Nations about the longstanding US claim that China steals intellectual property.
But when Micron reported earnings after the closing bell Thursday, it noted a bigger near-term problem involving China: The company is struggling because of the US government's ban on selling certain types of equipment to China's networking equipment company Huawei.
Micron did get
some exemptions from Washington in June
that allowed it to resume the sale of some products to Huawei — but not enough, apparently. Huawei remains on the government's so-called Entity List.
"Sales to Huawei declined sequentially and were down meaningfully from the levels we anticipated prior to the addition of Huawei to the Entity List," said Micron CEO Sanjay Mehrotra on a conference call with analysts Thursday.
"We have applied for licenses with the Department of Commerce that would allow us to ship additional products, but there have been no decisions on licenses to date. We see ongoing uncertainty surrounding US-China trade negotiations," Mehrotra added.
"If the Entity List restrictions against Huawei continue and we are unable to get licenses, we could see a worsening decline in our sales to Huawei over the coming quarters," he concluded.
Those comments spooked Wall Street. Shares of
Micron
(MU)
fell 9% Friday, although the stock is still up more than 40% in 2019.
Micron's history with China
Yet Micron does have a major gripe with China regarding trade secrets. It sued China's state-backed Fujian Jinhua and Taiwanese semiconductor company United Microelectronics Corporation in California federal court in December 2017, claiming that they misappropriated intellectual property.
"Micron has invested billions of dollars over decades to develop its intellectual property," Joel Poppen, general counsel at Micron, said. He said he hoped the lawsuit would "reinforce that criminal misappropriation will be appropriately addressed."
Although Micron supports the Trump administration's efforts to tackle the thorny issue of IP theft, Trump's trade policies are clearly hurting the company.
Mehrotra said during Thursday's call that "we are very much focused on continuing to diversify our revenue base" but conceded that "the Huawei entity listing does have an effect on some of our shipments."
There's another China worry, as well. Chinese customers might be stockpiling Micron's memory chips due to the trade war.
"One of the big concerns or debates in the financial community at the moment is whether the pickup in memory volumes that I think Micron has seen, is that mostly being driven by fundamentals or is this just potential inventory stocking because of some of the trade concerns?" Goldman Sachs analyst Mark Delaney asked Mehrotra on the conference call.
Mehrotra admitted that "there may be some level of inventory build in China … by certain customers."
"We have seen increased demand from customers headquartered in Mainland China, some of whom could be making strategic decisions to build higher levels of inventory in the face of increased trade tensions between the US and China," Mehrotra said.
Read more: https://www.cnn.com/2019/09/27/investing/micron-earnings-china-huawei-trump/index.html